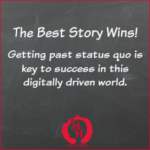 Getting to Why you are relevant and Why the market should care is hard, but I've never walked away from a challenge! Let's get real, the market has already done the research on your product's features and functionality – now the buyer is at your door knocking and needs that simple closer of Why You and What's Your Value. Can you answer these 2 simple questions with a Tweet?
Solving the customer value puzzle, getting to simple go-to-market messaging and driving marketing that creates relationships and engages both prospects and customers are my passion. My career in technology has been about taking chances and sitting in all the chairs at the table, building a foundation that takes advantage of both sides of my sword – Analytical and Social.
I began my career in the Ross Perot Bootcamp of EDS at a time when part of the recruiting included a speech about how and why EDS does not market. Fast forward to the Superbowl of 2000 and the award winning Cat Herders commercial that left all "Fallen Eagles" standing awe struck and speechless momentarily as we witnessed EDS' entre' into Marketing. The world was changing, competition was growing and technology growth was accelerating requiring the ability to get in front of the market and out maneuver the competition. More than a dozen years later and we all remember that commercial – The Best Story Wins!
A Marketer is Developed
I might not have begun my career in a formal marketing position, but some say I have an unfair advantage as a born southerner – Story telling, embellishment, drama and discovery of points of interest all come naturally to capture attention, engage and foster relationships. However, I did earn my technology stripes as an applications developer building a strong analytical foundation and appreciation for the power and creativity of technology, as both a buyer and supplier before joining the ranks of marketing full time. In short, I've been the:
Developer

Buyer

Solution Provider

Solution Owner

Market Analyst & Advisor

Solution Marketer & Sales Enabler

Marketing Orchestrator
Each role has provided an added perspective regarding technology solutions in arriving at the ability to help teams craft a compelling Story as to Why a solution is relevant in the market.
Technology finds it's way into Marketing
Fast forward through the fast paced technology booms and busts and the progression of direct mail to reach customers to high tech live events from the comfort of our desk, couch, dining table or at 30,000 feet after being profiled and targeted specifically for the event. It is overwhelming to think about triangulating the technology available and the multitude of channels available to push content in an effort to get in front of the elusive buyers to create a personalized relationship. Just another puzzle to develop the right strategy, for the right market at the right time.
Here are a few of my favorite marketing Dilberts illustrating the complexity of the marketing landscape today, as marketers, we do get to have a sense of humor.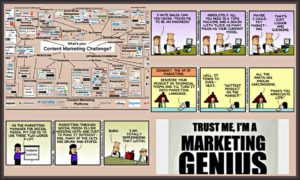 An Outlet to Share a Passion
This outlet will share marketing resources, commentary and news in developing go-to-market strategy, messaging, content fueling the marketing engine, applying technology, managing relationships and nurturing markets and prospects. In these fast paced times with dwindling budgets and daunting challenges, this is a community of like minded out-of-the-box creative thinkers to sharing  insights, opinion and tales from the trenches regarding today's marketing trends.
I may have taken a Dilbert route from engineer to marketer, but it has been nothing short of intriguing as technology has evolved and worked it's way into the creative ranks of Marketing and, yes, Sales.
* * * * * *
Join in the community and share your thoughts, opinions and comments!
Photo Credits:  curata.com and dilbert.com